NPR One is a decent podcast and live broadcast app for individuals who enjoy shows and podcasts from NPR and local public radio. With NPR One, you can get on-demand NPR content anytime you want to listen to it. That means you can easily listen to the news, hear your favorite NPR shows, and much more. What's even better now about NPR One is that you can not only use it with your iPhone, but also with Apple CarPlay as well.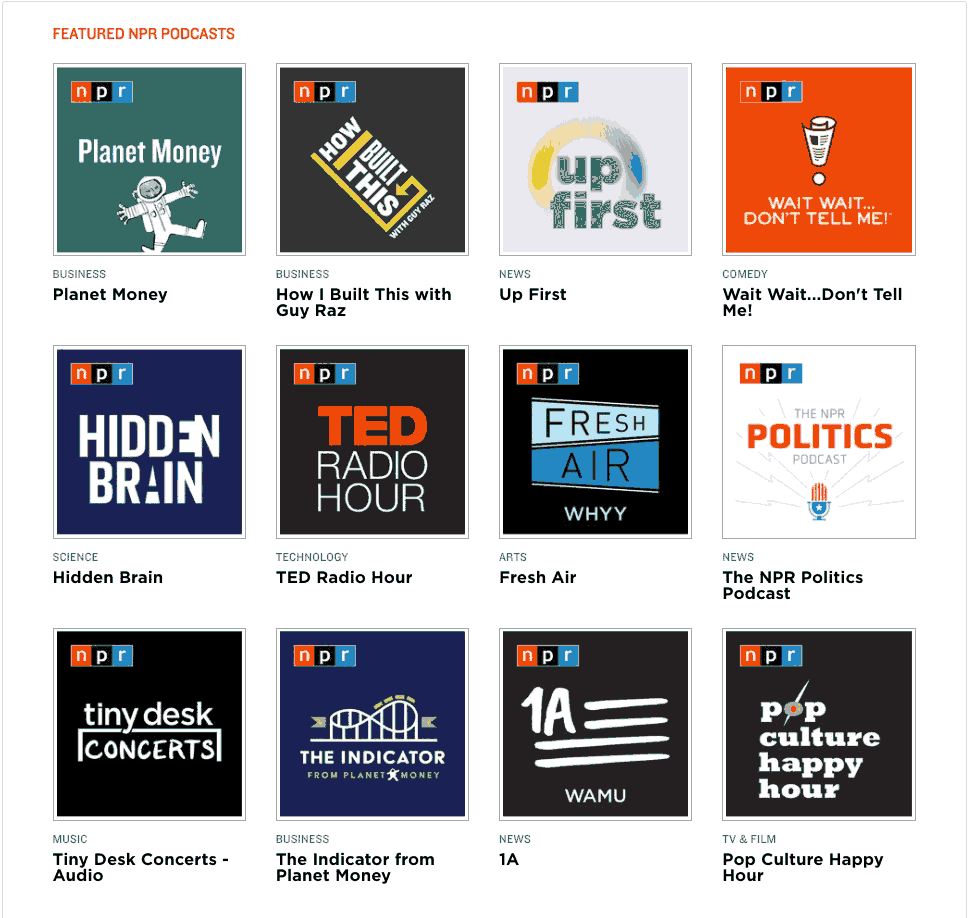 When you start using NPR One, you'll notice that there are four different sections. The first section, "Catch Up", provides a playback of the NPR national news broadcasts so that you can stay up-to-date with current events. The second section, called "Up Next," offers suggestions about what you should listen to after you finish up your current listening session. Third, there is the "Followed Shows" section, where you'll find any shows you decide to follow. Last, you'll see a "Recommended Shows" area, which provides you with NPR programs that the app thinks you might enjoy based on what you've listened to in the past.
NPR One on Apple CarPlay
If you like listening to streaming public radio news while you're in your vehicle and on-the-go, then you'll love NPR One on Apple CarPlay. Now you can listen to public radio news from all over the world. You'll be able to select stations from international, national, and local news after you sign up for your NPR member station. If your car has Apple CarPlay in its infotainment system and you're a news junkie, you'll love having NPR One for Apple CarPlay.
If you want to get started and "Catch Up" on your National or Local broadcast news and then follow up with your recommended stories, then simply tap on the "Catch Up" feature. If you're looking for something new, on the other hand, then you can tap on "Recommendations" and look over a list of episodes the app feels you might like based on what you've listened to previously.
If you're taking a longer road trip, then NPR One's "Featured Shows" might be your best bet. In that area of the app, you'll find a list of shows and podcasts you can listen to while driving. Some of our favorites include NPR's Hidden Brain, WNYC's Radiolab, and PRX's The Moth Radio Hour. However, feel free to browse around and find your own favorites, since there is a vast selection of titles to pick from.
While you are listening to one of your favorite "Featured Shows," you can open the extended menu on the CarPlay interface and follow the show in NPR One. That way, you'll be able to listen to the latest episodes as soon as they are released. Another neat feature we love is that you can watch the latest episodes from your followed shows by selecting "Followed."
It Makes a Strong Case for Itself — If You Want NPR-Only Content
If you live in the world of National Public Radio content — meaning you're a NPR devotee — this app will allow you a laser focus on current and new avenues of NPR content, like the hokey-but-fun Wait Wait…Don't Tell Me!. Additionally, it can shine a light on content previously unknown, if you're not an NPR listener.
How to Use NPR One with CarPlay
If you're wondering how to use NPR One with CarPlay, just follow the steps below:
Connect your iPhone to CarPlay using your USB connector and connecting it to your car.
Turn on CarPlay and select NPR One on your CarPlay touchscreen.
Next, tap either "Catch Up" if you want to start with your recommended stories, OR
Tap on "Recommendations" to see a list of recommendations based on your previous listening.