In early August, Sony announced the release of its new XAV-AX8000 Apple CarPlay compatible receiver. Along with the XAV-AX8000 model, Sony also announced the release of three other models. However, the model that everybody is interested in is AX8000 since it offers something new from Sony. Most people considering the AX8000 are attracted to it because of the innovative display Sony built into this infotainment unit.
Are you wanting to get into CarPlay but don't have a CarPlay radio? This is the way!
The Sony XAV-AX8000 is the latest CarPlay and Android Auto receiver made to fit into a smaller, single-DIN space. It comes with an 8.95-inch anti-glare display which goes over the dashboard. You can mount this screen in three different directions including forwarding, backward tilt, and vertical height and depth. Because the AX8000 is so flexible when it comes to fitting space inside any car, you should be able to get the unit installed the way you like in any vehicle you might happen to own.
So, when will the AX8000 be available to buy? You'll find this model hitting the market right around Christmas, which shouldn't be surprising. The holidays are typically a great time for new technology products to be released, and the AX8000 is no different. So expect the AX8000 to start hitting stores right before Christmas. Sony anticipates the unit's suggested retail price will be set at $599.99 in the United States.
Can I Use the AX8000 with an Older Vehicle?
If you are looking for an aftermarket receiver that will work with an older car, then the AX8000 does provide that option. Since it's an aftermarket receiver, you can have it installed into an older vehicle.
With the AX8000, you'll be able to easily access CarPlay's wide range of apps like Messages, Apple Maps, Apple Music, Spotify, Podcasts, Pandora, and plenty of great navigation apps like Waze and Google Maps. The AX8000 is also designed to support both Apple CarPlay and Android Auto.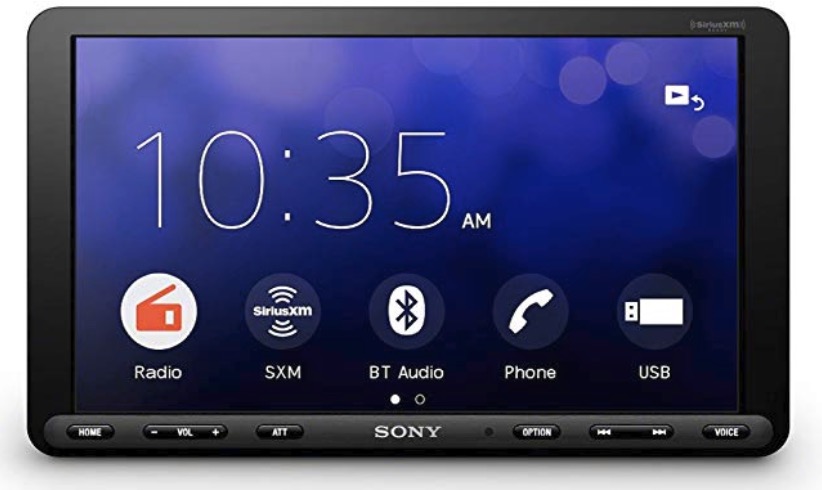 And while the AX8000 offers plenty of great options at a great price, you'll have to decide if it's the right upgrade for your older model car. If you want a wireless CarPlay receiver, then this might not be the option that's best for you.
However, it's important to keep in mind that the AX8000 is a wired CarPlay receiver. That means you'll have to have your iPhone plugged into your car with a Lightning USB cable. If you are looking for a wireless CarPlay receiver, then you might want to look into something from Alpine, Kenwood, and JVC.
Some Criticisms of the AX8000
While the AX8000 will give you an affordable CarPlay receiver even if you've got an older model car, there are still a few things we don't like about it. While we really do like the price and the fact that the product will give many more people access to CarPlay, there are plenty of drawbacks to this item.
The USB out is at the rear with this system, which is a bit annoying. Also, you won't get wireless CarPlay support with this option, which is a bit of a disappointment. Also, while you are getting a large display with this product, the resolution of 800×480 leaves much to be desired. If you prefer a higher level of resolution in your screen, Kenwood has some great options.