Aftermarket stereos with Apple CarPlay come with a wide range of price tags. How do you choose the right one?
If you're dying to use Apple CarPlay, but your current vehicle doesn't support this awesome tech, you've only got two options. You could buy a new car, but that seems excessive for what equates to basically just a new tape deck.
Instead, why not consider simply buying an aftermarket headunit with Apple CarPlay? It's much cheaper than purchasing a new vehicle and with a fascia kit, no one will ever even know your cool new receiver didn't come stock!
To help you decide which headunit makes the most sense for you, we've hand-picked the best headunits with Apple CarPlay. Scroll on for these awesome options as well as some tips to make the purchase and installation even easier!
Best Headunits with Apple Carplay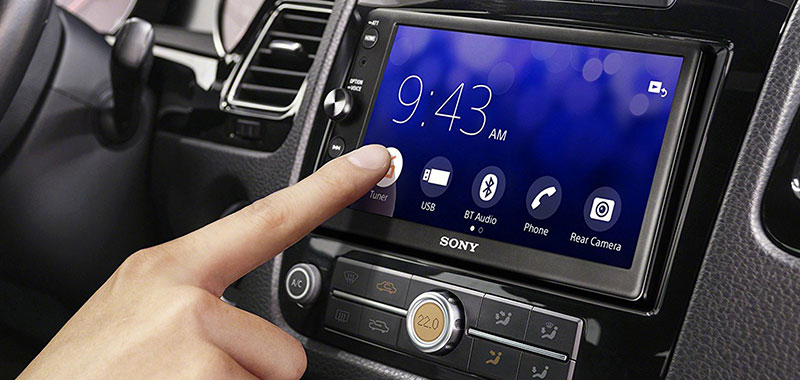 There are quite a few aftermarket headunits that support Apple CarPlay and, for the most part, they all have pretty similar features. Bluetooth comes standard, screens are all touchscreen and range from 6 to 7 inches. All can support rear cameras and steering wheel controls (though you'll need to buy or already have a rear camera and steering wheel controls, obviously).
So how do you choose the one that's right for you? Well, you need to look at:
Cost – Some are much more expensive than others. As with most things in life, higher cost means better quality.
Reviews – The cheaper units generally see more mixed reviews.
DIN – You'll be limited to your car's existing DIN, so keep that in mind (If you don't know what DIN is, read the last section to find out exactly what this is).
CD/DVD – Most of the receivers below don't support CD/DVDs. We've noted whether each headunit supports this or not.
Wireless CarPlay – There's only one aftermarket receiver that supports wireless Carplay, and it's the most expensive on our list.
Decide what considerations are the most important to you and then move forward from there. To help you out, we've chosen the best aftermarket CarPlay stereo for each category above.
Ready? Let's take a look, starting with the best all-around option.
CD/DVD Compatible: Pioneer AVH-2300NEX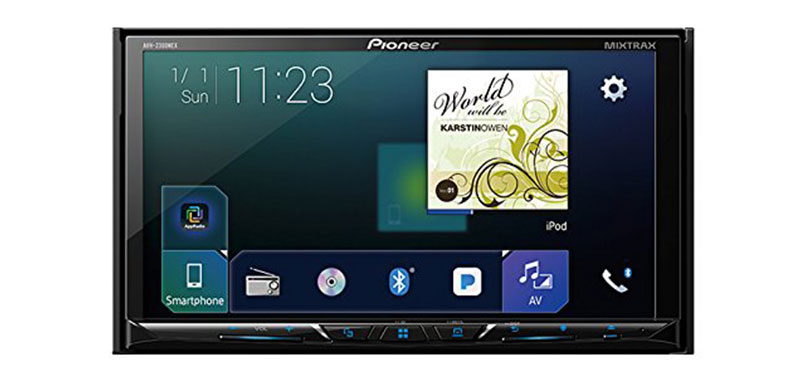 Price: $$ out of $$$$
Review: 4.3 out of 5 stars
Pros: CD/DVD compatible, Good Price, Great Reviews, Large Screen
Cons: None
If you're looking for a receiver that both is CarPlay compatible and can play CDs/DVDs as well, take a look at the well-priced Pioneer AVH-2300NEX. This double-DIN unit comes CarPlay-ready and can also play CDs/DVDs – a great deal at just over $300.
Buyers report absolutely incredible audio as well as excellent usability and aesthetics. A handful of user report lower screen quality than other units, but at this cost and considering the features that come with the unit (we did mention it supports CD/DVDs, right?), that's to be somewhat expected.
If you want a great aftermarket receiver that supports both CarPlay and CDs, with great sound to boot, look no further.
Single DIN: Pioneer AVH-3300NEX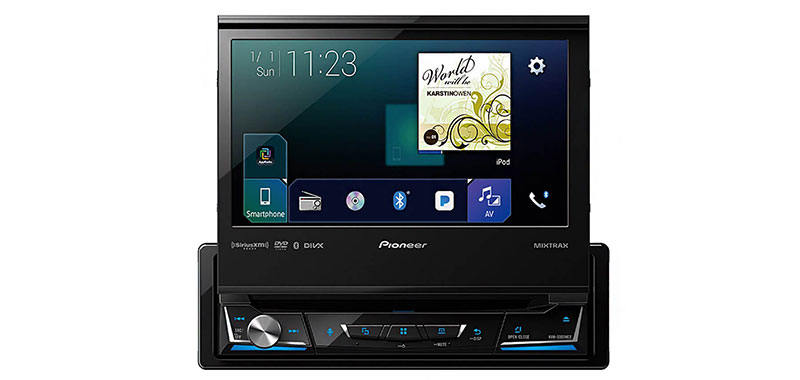 Price: $$$ out of $$$$
Pros: Great Reviews, Only Single-DIN with CarPlay, Large Screen, CD/DVD compatible
Cons: Higher Price than Comparable Double-DIN units
If you're looking for an aftermarket, single-DIN receiver that is CarPlay compatible, your choices suddenly drop significantly, as most Carplay compatible units are double-DIN.
However, you're not completely out of options! The Pioneer AVH-3300NEX is a single-DIN unit with a 7" flip out touchscreen that includes Carplay and Bluetooth. Like the Pioneer unit above, this receiver comes with a CD/DVD player so you can still play that Best of Loretta Lynn album you got from that garage sale.
Users report that the unit works and sounds great, with both the Bluetooth and CarPlay working smoothly, without lag or any other problems. Just like the other units on our list, this one is rear camera ready and comes with a small microphone as well.
If you're limited to single-DIN only, this unit meets all your needs at a mid-range price.
Wireless CarPlay: Alpine ILX-107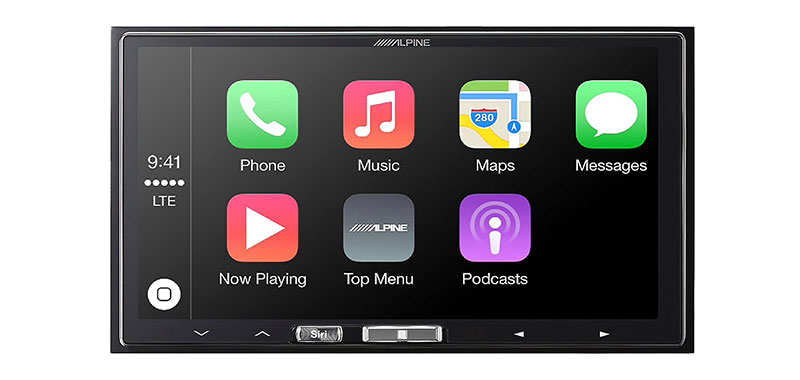 Price: $$$$ out of $$$$
Pros: Only Wireless CarPlay unit, Great Reviews, Large Screen
Cons: Expensive, No CD/DVD
Currently the only aftermarket receiver that supports wireless CarPlay, the Alpine ILX-107 includes a 7" VGA capacitive touch display and is ready for steering wheel controls and rear cameras. The unit also comes a physical Siri button for ease of use.
The beauty of a wireless option should be obvious: Just jump in your car and turn on Spotify or text a friend, all without taking your phone out of your pocket. The unit also comes with the lightning cord, useful on longer trips when you also want to keep your phone charged as well.
As you'd expect for a premium product, customers report that the unit – including the wireless CarPlay capability – work great with no real issues to speak of.
At just under $700, you'll be paying for the privilege to leave your phone in your pocket, but if you're looking for the future of car/phone integration, the Alpine ILX-107 is definitely it.
Cheapest: Boss Audio BVCP9675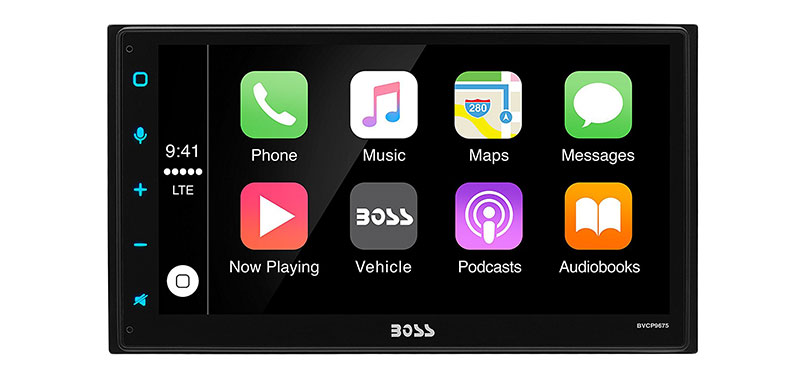 Price: $ out of $$$$
Pros: Low Cost, Good Features for Price
Cons: Mixed Reviews, No CD/DVD
Where once Carplay was limited to higher-priced aftermarket headunits, today you can find quite a few deals!
For just over $200, you can purchase the Boss Audio BVCP9675. This double-DIN unit features a 6.75" capacitive touchscreen, Bluetooth, USB, and of course, Carplay compatibility. While you still need to plug your phone in to use Carplay, with the Bluetooth you can make/receive calls and listen to music wirelessly. The unit comes with inputs for USB, AUX, steering wheel controls, and a rear camera.
Despite the low price, buyers report good screen quality (both in resolution and color), clear call quality, touch capabilities, and good aesthetics. However, others note some functionality issues and poor customer service. While you'll probably be alright, don't forget that you usually get what you pay for.
While this unit seems to suffer from poor usability more than others, at that low price you really can't go wrong.
Best All Around: Sony XAV-AX100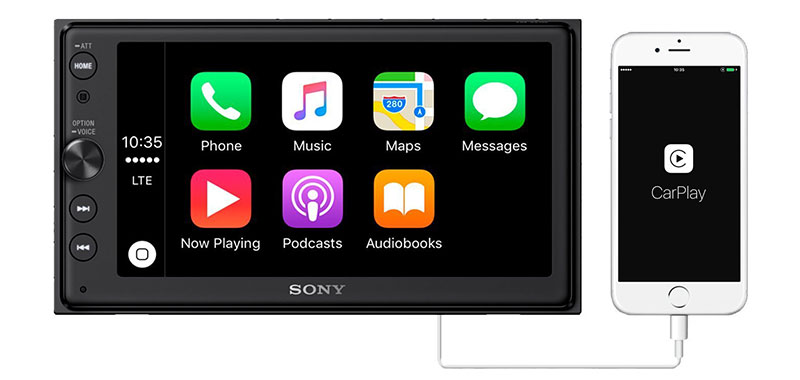 Price: $$ out of $$$$
Pros: Bluetooth, Excellent Reviews, Mid-Range Price
Cons: Smaller Screen, No CD/DVD
Sony's XAV-AX100 comes right in around $350, half the price of more expensive units, but with much better reviews than its cheaper cousins.
The unit comes ready with Bluetooth (though you still need to plug your phone in for CarPlay), touchscreen and physical dial/buttons, and rear camera compatibility.
This unit gets fantastic reviews from customers, where they praise the interface, clear audio, and bright screen. The only consistent issue reviewers brought up? A warning message that you must accept each time you start the car. Somewhat annoying, but by no means a deal breaker.
While the screen is only 6" – a bit smaller than the others on our list – no reviewers pointed this out as a bad thing.
The standard unit isn't able to play CD or DVDs, but for $100 more you can add that capability, as well as satellite radio.
Overall, this is a great unit with excellent reviews, all at a mid-range price.
Hot Tips to Help You Find the Right Head Unit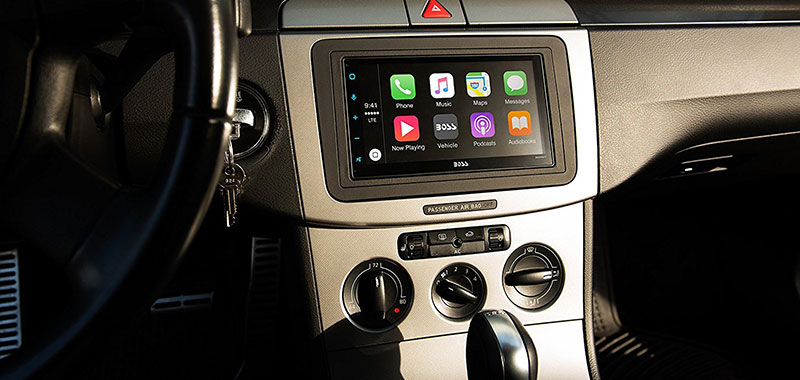 Before you choose your new CarPlay stereo, we've got a few hot tips to help you out.
Bluetooth vs Wireless
You probably noticed that all the headunits above come with Bluetooth, but you still need to plug your phone in with a physical wire to use CarPlay (except for the Alpine unit). Like me, you're probably wondering what gives – Why do we have to use an old school wire to use Carplay?
Here's the rundown: CarPlay doesn't  work over Bluetooth. You need Wi-Fi. Bluetooth allows you to wirelessly play music, listen to audiobooks, and use Siri, but with most headunits you can't use CarPlay via Bluetooth.
Instead, you most plug your phone into the lightening cord attached to the receiver, which allow you to both use CarPlay and charge your phone as well. As we mentioned, Alpine currently produces the only aftermarket headunit that supports CarPlay wirelessly, via Wi-Fi built into the headunit.
Single-DIN vs Double-DIN
An unfamiliar name for a very familiar concept. Have you ever noticed that all in-car head units are the same width, but some are short and some are tall? That's the DIN standards at work, which specifies the height and width of standard head units. A single DIN unit is 2" tall. A double-DIN unit is 4" tall.
Which DIN you need depends on your dash. It can be somewhat difficult to see exactly which part of the dash is the headunit, as components in modern cars are very sleek and integrated, but just take a look at your dash or do a quick search online. If it looks like its 4" tall – that's a double DIN and you'll have many more options for CarPlay headunits with this size. If you've only got a single-DIN receiver, don't worry! You're still covered.
Just Buy the Wiring Adapter
Unless you're an expert installer of car audio equipment, simply buying the adapter for connecting your new receiver to the car's existing wiring can save you major time and frustration. Take it from me, this can be a frustrating process – sweat pouring down your forehead, hands getting cut up from the metal, all why trying to splice together wires that don't quite stick out far enough from the back makes for a very long day. It might cost a little more to buy that adapter, but your nerves will thank you.
If you've got steering wheel controls, don't forget to buy that wiring adapter as well, which can be separate from your main wiring adapter.
Consider Buying the Fascia Kit
If you want your headunit to look stock, buy the cover designed for your specific car and headunit. Obviously, this is another expense that isn't absolutely necessary, but why spend bookoo bucks on an awesome headunit, only for it to look terrible in your dash?
Buying an aftermarket stereo with Apple CarPlay can make your driving experience easier and safer, all without the expense of buying a totally new car. If you've installed an aftermarket headunit with CarPlay in your own car, tell us about your experience in the comments below!
Image Credits: CC Karlis Dambrans via Flickr, Product Photos Courtesy Amazon
Summary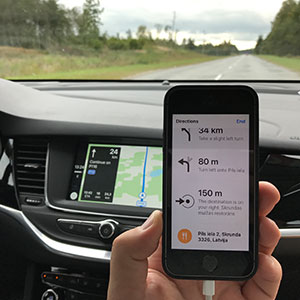 Article Name
Best Headunits with Apple Carplay
Description
Take a look at our picks for the best headunits with Apple CarPlay, as well as some tips to make the purchase and installation much, much easier!
Author