Apple CarPlay allows you to easily access your iPhone without taking your eyes off the road. With distractions a major cause of accidents while driving, this could truly save your life one day. Plus, it's just so easy to use!
Currently, Nissan offers CarPlay in 10 models, and is adding more every year. Let's take a look at these models, as well as how to setup and use CarPlay in your Nissan.
What Nissan Models Include Apple CarPlay?
Nissan first started supporting Apple CarPlay in 2017 Maximas and Micras. As of December 2018, Nissan currently offers Apple CarPlay in 10 different models:
Maxima (2017 – )
Micra (2017 – )
Murano (2017.5 – )
GT-R (2018 – )
Kicks (2018 – )
Leaf (2018 – )
Rogue (2018 – )
Altima (2019 – )
Titan (2019 – )
Sentra (2019 – )
Nissan does include CarPlay in most trim levels, but not all. Typically, carmakers save CarPlay for the higher trim levels, though that depends on the model. Apple CarPlay needs an infotainment system to function, so some of the base models can't support it.
The 2018 Leaf, for example, only includes CarPlay in the SV and SL trim levels, not the basic S. Overall though, CarPlay comes in all trim levels for many of the cars above. The Murano supports Apple CarPlay across all trim levels. The 2018 Rogue also comes with CarPlay in every model, as does the Maxima and Altima.
How Much Does CarPlay Cost?
CarPlay is absolutely free! After purchasing your vehicle, there's no monthly or yearly fee to continue using CarPlay, so sit back and enjoy!
I Don't Have CarPlay, Can I Get a Nissan CarPlay Upgrade?
If your Nissan doesn't support CarPlay, you might be wondering if you can get an upgrade. Unfortunately, Nissan doesn't offer any CarPlay retrofits at this time.
However, that doesn't mean you're out of options! While Nissan doesn't offer any CarPlay upgrades, there are quite a few aftermarket headunits that support Apple CarPlay. Check out our list of best headunits with Apple CarPlay to get an idea of what's out there.
You'll be pleasantly surprised at your options. There's budget options all the way up to premium headunits with wireless CarPlay, something no manufacturer has yet to incorporate!
How to Setup and Use Your Nissan CarPlay
Setting up CarPlay in your new Nissan is actually quite easy:
On your iPhone, Go to Settings > General and ensure both CarPlay and Siri are turned on. There's no CarPlay app to install, as iOS already has everything you need for CarPlay to work.
Connect your iPhone via a lightening cable to USB 1.
A screen will appear on your in-dash screen asking if you'd like to connect to Apple CarPlay. Touch Don't Show Again and then Yes. You're done!
After setting up CarPlay the first time, every time you connect your phone, you'll see a simplified version of your iPhone's menu mirrored on your car's infotainment screen. You'll find all your apps that are pre-approved to work with CarPlay now on your screen.
While driving, you can use the touchscreen to open an app, or hold down your steering wheel's voice command to engage Siri. You can also hold down the white home button on the touchscreen to engage Siri.
If you want to listen to the radio or use your car's native navigation system, just press the physical Home button and you'll move back to your car's infotainment system. To return to CarPlay, click Info on the touchscreen, then choose Apple CarPlay.
Here's quick video from Nissan to show exactly how to setup and use CarPlay:
Troubleshoot Your Nissan CarPlay Not Working
Is your Nissan Carplay not working? Tech doesn't work sometimes, but hopefully it's an easy fix. Whenever Apple puts out an update to their iOS, CarPlay seems to inevitably break or glitch for some.
If CarPlay isn't working for you, try these steps:
Are you plugged into USB 1? That's the only port that works with CarPlay
Are you using an Apple-approved USB cord? If not, that could be the problem.
Is CarPlay and Siri turned on in your iPhone?
Hardstart your iPhone and restart your car.
Update to the latest version of iOS
If CarPlay still doesn't work in your Nissan, check your owner's manual for firmware updates to your infotainment system.
What Can I Do With CarPlay?
CarPlay lets you use your iPhone without taking your eyes on the road. Basically, it's a safer, easier way to use your smartphone while driving. Instead of constantly squinting at your phone, trying to text someone back or play new album, just tell Siri what you want to do.
Via CarPlay, you can listen to music, podcasts, or audiobooks, take notes while driving, call and message friends, and a bunch of other stuff – all while looking directly at the car in front of you. Obviously, you can't play games or read an eBook with CarPlay, but that's kind of the point right? A safer driving experience.
Check out our ongoing list of CarPlay-supported apps to see everything you can do with your Nissan CarPlay!
Image Credit: Courtesy of Nissan Media Newsroom
Summary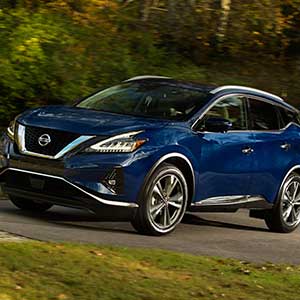 Article Name
Nissan Apple CarPlay: Everything You Need to Know
Description
Currently, Nissan offers CarPlay in 10 models, and is adding more every year. Let's take a look at these models, as well as how to setup and use CarPlay in your Nissan.
Author
Publisher Name
Publisher Logo