Apple CarPlay offers the easiest (and safest) way to use your iPhone while driving and many of Honda's most popular models now include CarPlay.
What Honda Models Include CarPlay?
As of late 2018, Honda offers CarPlay in 8 models, including:
Accord (starting in 2016)
Civic (2016)
Ridgeline (starting in 2017)
CR-V (2017)
Pilot (2017)
Odyssey (starting in 2018)
Fit (2018)
Insight (starting in 2019)
Keep in mind, Honda does not include CarPlay in all trim levels for the above models. Instead, the manufacturer reserves CarPlay (and Android Auto) for all levels except the base trim.
So, for example, the 2019 Honda Civic comes in 5 different trims levels. The base LX trim level doesn't include CarPlay. However, all the other trim levels – Sport, EX, EX-L, and Touring – do include CarPlay.
This rule also applies for the 2019 Honda Fit, Honda Pilot, and Odyssey minivan. The others on our list are likely similar, but take a look at Honda's full list of models to make sure what trim level you need for CarPlay.
How Much Does CarPlay Cost?
If you've already purchased your CarPlay-compatible Honda, you're all set – you don't need to pay for anything! That's no longer a given, as some manufacturers (BMW, we're looking at you) are actually charging annual fees to continue using CarPlay. Thankfully though, Honda hasn't yet expressed any interest in charging ongoing fees to use CarPlay.
Of course, if you want Apple CarPlay in your Honda vehicle, you'll have to pony up the cash for, at least, the second-lowest trim level. This cost premium ranges from about $1,300 for the 2019 Fit to about $4,000 for the 2019 Odyssey.
Of course, with the higher trim level you're getting a box full of additional goodies as well. Remote engine start and blind spot sensors come with the Odyssey, while the Fit enjoys fog lights and various chrome and spoilers.
If you're in the market for a new vehicle, you'll have to take a look at what these different trim levels include to decide what matters to you.
Can You Add CarPlay to Existing Hondas?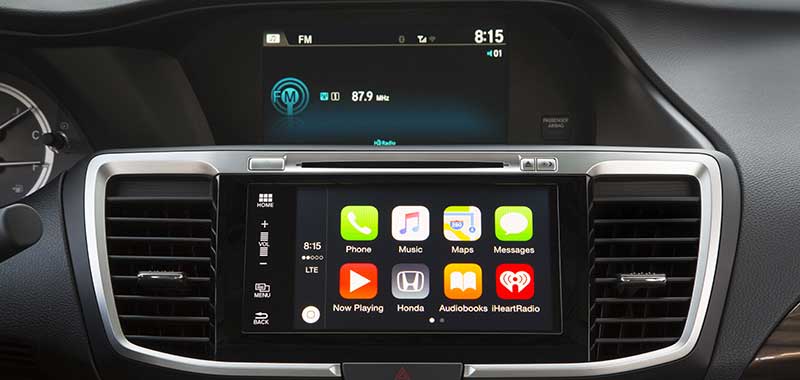 Beyond Ford and Hyundai, which retroactively install CarPlay in a handful of models, manufacturers typically won't add CarPlay to existing vehicles.
If you don't own one of the CarPlay-carrying models above though, you're not out of luck! It's time to go aftermarket.
There's a wide range of aftermarket infotainment systems that include CarPlay – many at very reasonable prices – and you can pretty much find exactly what your car needs. Single DIN, double DIN. Touchscreen. There's some awesome options out there, including Wireless connectivity. That's not even an option yet off the lot of any manufacturer!
Take a look at our article Best Headunits with Apple CarPlay to see what's out there.
What Does CarPlay Do?
CarPlay is simply a way to use your iPhone more safely while driving. Instead of constantly holding your phone and looking at the little screen to take calls and change music, CarPlay allows you to access all your driving-related apps right on your car's infotainment display.
Basically, it shows a simplified version of your iPhone screen with pre-approved apps like Maps (or Waze or Google Maps), Audible, Music, Messages, WhatsApp, and iHeartRadio. For the full list of all the apps compatible with CarPlay, check out our post CarPlay Compatible Apps!
CarPlay is all about decreasing the amount of time you spend looking away from the road. As such, you can control your iPhone via your infotainment system's touchscreen and/or dials or via voice command.
You can make calls, text, make notes and set reminders – all without looking away from the road!
How to Set Up Honda's Apple CarPlay
The beauty of CarPlay is in its simplicity. Since it's just a condensed version of your iPhone, you don't need to learn a totally new system or interface. You're pretty much ready to go right off the lot!
To set up your Honda's Apple CarPlay, all you need to do is plug your phone into the USB port using a lightening cord (you'll have to bring your own though). On your first use, a consent screen will appear on your display. After skimming the Terms & Conditions and clicking Enable, a new CarPlay icon will appear on your Honda's native display. (Check out the video from Honda above for a visual walk-thru.)
Clicking on the app will open the CarPlay display, already populated with your apps that are pre-approved for CarPlay. Congratulations, you're ready to start using CarPlay!
How to Use Honda's Apple CarPlay
Using CarPlay is actually quite easy. Once you've plugged your iPhone into your vehicle's USB port, you can open apps via the menu on the touchscreen display or use Siri.
To use Siri, just hold down the talk button on your Honda steering wheel until you hear Siri's distinctive beeps. Then simply make your request: "Text John", "Play Bohemian Rhapsody", "Find the nearest Dairy Queen", and so on.
It's really that easy!
Have any questions about Honda and Apple CarPlay that we didn't answer above? Ask away in the comments!
Images courtesy Honda Media News Room
Summary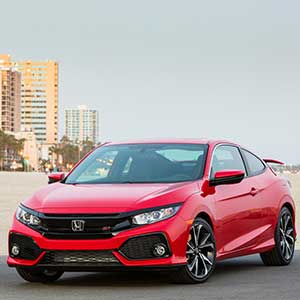 Article Name
Which Honda Models Come With Apple Carplay?
Description
As of 2018, Honda equips nine models with Apple CarPlay. However, keep in mind that it's not included with all trim levels!
Author
Publisher Name
Publisher Logo