CarPlay is Apple's solution to your car's less-than-perfect navigation and infotainment system. Just plug your phone in and your vehicle's screen shows a simplified version of your phone's home screen, complete with preapproved, car-friendly apps like Apple Music, iMessage, Maps, and Spotify.
While CarPlay was available in only a handful of cars when Apple launched the product in 2014, pretty much every major car manufacturer now supports CarPlay.
Take a look below for the most frequently asked questions about CarPlay, as well as everything else you need to know.
What is CarPlay?
Originally described as "iOS in the car", Apple officially launched CarPlay at the 2014 Geneva Motor Show, with manufacturers Ferrari, Mercedes and Volvo the original adopters. As of 2018, there are now more than 200 car models that support Carplay, including all the biggest manufacturers in the biz. (See section What vehicles support CarPlay? for more info.)
Beyond simply the convenience of having your phone's screen on your car's dash, CarPlay is all about creating a safer driving experience. Instead of squinting at your phone trying to type out a message at a red light or – worse yet – while driving, with CarPlay you just press the voice command button on your steering wheel and tell Siri to send a message to your buddy, warning her that you're running late.
With CarPlay, you skip out on your car's own infotainment system and opt instead for a platform that is simple, intuitive, and immediately familiar. Sounds pretty good, right?
What phones are compatible with CarPlay?
Introduced in 2014, CarPlay works with all iPhone models from the iPhone 5 and up, including:
iPhone 5, 5s, 5c, SE
iPhone 6, 6 Plus
iPhone 6s, 6s Plus
iPhone SE
iPhone 7, 7 Plus
iPhone 8, 8 Plus
iPhone X
What vehicles support CarPlay?
As of early 2018, over 200 models support CarPlay – and the list is growing! Check our article Which Car Have CarPlay: An Updated List for the full list of supported models, but pretty much every major auto manufacturer now supports CarPlay in at least a few of their models.
Toyota is one noticeable exception to the list. For years they were holding out for their own proprietary CarPlay-like app, but will finally begin supporting CarPlay in 2019 models – much later than other automakers.
Keep in mind that as of 2018, most manufacturers haven't incorporated CarPlay into their entire fleet, so be sure to check out list above of cars that support CarPlay before making any decisions!
How do I connect my phone with CarPlay?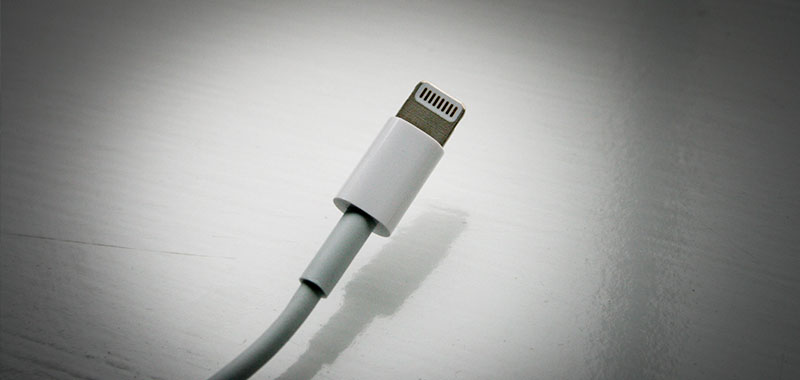 Connecting your iPhone to your car with CarPlay is incredibly easy! Just find the Lightning cord (labeled CarPlay or Smartphone) and plug it into your phone. Done.
Since CarPlay is already supported on both your iPhone and in your car, it's that easy. Just be sure to make sure your car is running and you've got service on your phone.
Once you're plugged in, the CarPlay-compatible apps will automatically pop up on your car's screen. For increased safety, your phone screen will also become locked so you're not tempted to watch the latest season of Stranger Things between stop lights.
If you need to send a message or even open an app, you can conjure Siri by two different methods:
Press the Voice Command button on your steering wheel
If you have a touch screen, press and hold the Home Button until Siri pops up.
CarPlay is designed to be intuitive and simple, so you shouldn't have any problems!
Do I have to have a touchscreen display in my car to use CarPlay?
Absolutely not! CarPlay works with whatever native system your cars uses, whether it be touchscreen or dials and buttons.
Do I have to pay extra for CarPlay?
Automakers are increasingly seeing CarPlay as a necessary function, so while it does depend on the manufacturer, most companies don't charge any extra for CarPlay.
Hyundai offers CarPlay on all models with navigation (which includes all but the most basic trim levels) at no extra charge, and also offers free updates for existing vehicles, mostly 2015 to 2017 models with navigation already installed. Ford also includes CarPlay in 2017 models equipped with their SYNC 3 system, and also offers gratis updates for 2016 models via Wi-Fi, USB, or at the dealer.
While Toyota was holding out for their own infotainment system for years, they finally caved in early 2018, with CarPlay coming standard on all trim levels of the 2019 Toyota Avalon and with plans to expand CarPlay in the near future.
Not all manufacturers offer CarPlay for free though. Starting in 2019, BMW will charge $80/year for CarPlay, with the first year free. Before that, they charged a flat $300 fee at the time of purchase. Yikes!
Can I install CarPlay in my existing car?
CarPlay must be integrated into the software of your car's infotainment system. As such, most of the time you'll need to purchase a vehicle with CarPlay already installed.
As we mentioned above, Ford and Hyundai do offer upgrades for a few models, but generally speaking, if your existing car doesn't support CarPlay, the only way to get it is to purchase and install a 3rd party infotainment system that does.
Read over our reviews of in-dash infotainment systems with CarPlay for more info on what's out there. While quite expensive, the Pioneer AVIC8100NEX 7" touchscreen display, for example, comes with CarPlay and Android Auto as well as Bluetooth, and GPS navigation and sees great reviews.
What apps work with CarPlay?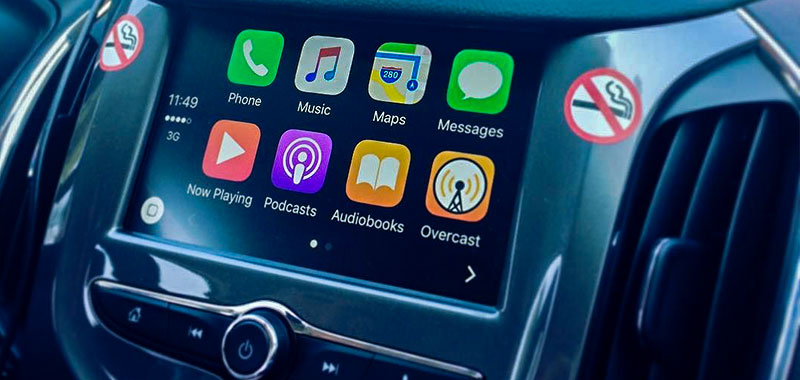 As of early 2018, there's about 20 apps that are compatible with CarPlay– both from Apple itself as well as 3rd parties.
Of course, Apple Maps, iMessage, and Music are on offer, but others you wouldn't quite expect – like Notes – also work. On the 3rd party side, you've got a handful of options – all of which are 'audio based'. Spotify, iHeartRadio, NPR One, and Amazon Music are all supported, as well as MLB At Bat, Radio Disney, Audiobooks.com, and Downcast (for podcast).
There are other apps that partially work with CarPlay as well. These won't have full functionality like the 100% compatible apps above, but will perform the basics. Libby, the library-connected audiobook app for example, allows you to listen to audiobooks with basic functionality (start, pause, FF, RW), but the cooler functionalities of the app are off limits.
Can I use Siri while using CarPlay?
Of course! Siri is actually the heart of CarPlay. Think about it: the whole point of CarPlay is to minimize the time your eyes aren't glued to the road, so dictation plays a crucial role. Need to update your friend on your ETA? Just wake Siri up and dictate your message. Want to listen to your favorite podcast? Just tell Siri to open it up.
Can I switch between the car's infotainment system and CarPlay when CarPlay is running?
If you suddenly want to listen to your radio (we're talking FM/AM, not iHeartRadio), you can easily switch back and forth between CarPlay and your radio, CD player, Sirius XM, or SD card (if your car supports that sort of thing). Using your car's native navigation isn't really possible, but why would you even need it when Apple Maps is right there?
Image Credits: CC via Flickr – smoothgroover22, William Hook, and Jonathan Deamer
Summary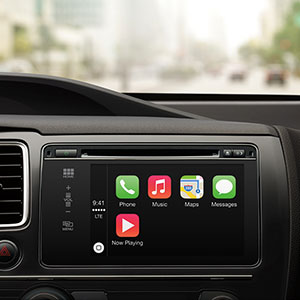 Article Name
Apple Carplay: FAQ and Everything You Need to Know
Description
Carplay is Apple's solution to your car's less-than-perfect navigation and infotainment system. Just plug your phone in and your vehicle's screen shows a simplified version of your phone's home screen, complete with preapproved, car-friendly apps like Apple Music, iMessage, Maps, and Spotify.
Author