If you're looking to pair your iPhone with a new Ford, you're in luck – sort of.
Ford offers Carplay across their entire lineup, but not all trim levels actually come with the hardware you need. If you're looking to enjoy Ford Carplay, you'll need to make sure your vehicle is equipped with their SYNC 3 infotainment system, which is generally reserved for their higher trim levels.
Keep reading to find out what Ford models come equipped for Carplay as well as all the other info you need to get Carplay going in your Ford vehicle.
What Ford models include Carplay?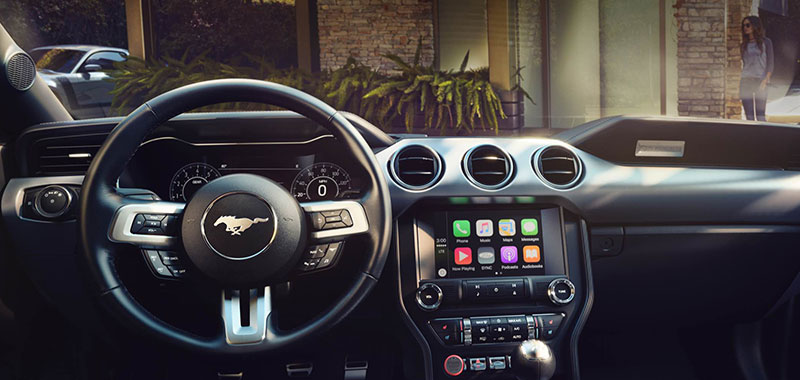 All Ford vehicles with their high-end SYNC 3 infotainment system are compatible with Apple Carplay. But while all 2017+ models can be equipped with SYNC 3, only the higher trim levels actually include this higher end infotainment system.
For example, the most basic trim levels of the ever-popular Ford Focus (the S and SE) only include the more limited SYNC infotainment system. However, the SEL and Titanium trims do include SYNC 3. Generally speaking, across the entire lineup of Ford vehicles, the cheapest trim levels (S and SE) only come with SYNC, while the more expensive trims include SYNC 3 (and by extension, Apple Carplay).
If you don't have the cash for a full trim upgrade, don't let that get you down though. You've still got options. With the SE trim level, you can upgrade your infotainment system to SYNC 3 for an additional $995, though it's not an option for the most basic S trim. Adding voice-activated navigation along with the SYNC 3 costs just $795, but it'll set you back $1,790 in total, as you also have to buy the Appearance Package.
Unfortunately, there's simply too many models, trim levels, and upgrade packages to give you a complete overview of which ones include Apple Carplay. So to find out which trim levels include SYNC 3 (and Carplay) for each model you're interested in, head over to Ford's online Showroom where you can see more details on trim level, costs, and available upgrades.
Ford began supporting Apple Carplay in 2017, installing the required hard/software in new vehicles and offering to retroactively install it in any MY 2016 vehicles equipped with their SYNC 3 infotainment software. Kudos to Ford for this, as it's something most car companies simply refuse to do. 2016 models with SYNC 3 include the C-Max, Edge, Escape, and Expedition.
SYNC 3 is the 3rd version of Ford's much lauded, forward-leaning SYNC infotainment system introduced in 2007, and the more recent (and considerably less-lauded) MyFord Touch. Ford threw out the entire Windows-based system for the SYNC 3, instead opting for a more simplistic and intuitive Blackberry-based system (which, despite Blackberry's failings in the current mobile phone market, is doing pretty well in the infotainment system sector) – all to great applause.
Will my iPhone work with Ford Carplay?
As long as you have an iPhone 5 or newer, you should be good to go. This includes:
iPhone 5, 5s, 5c, and SE
iPhone 6, 6 Plus, 6s, and 6s Plus
iPhone 7, 7 Plus
iPhone 8, 8 Plus
iPhone X
Ford also offers a nifty tool that allows you to choose your vehicle and service provider to make absolutely sure your phone is Carplay-compatible with any vehicle.
How Do I Use Carplay with My Ford?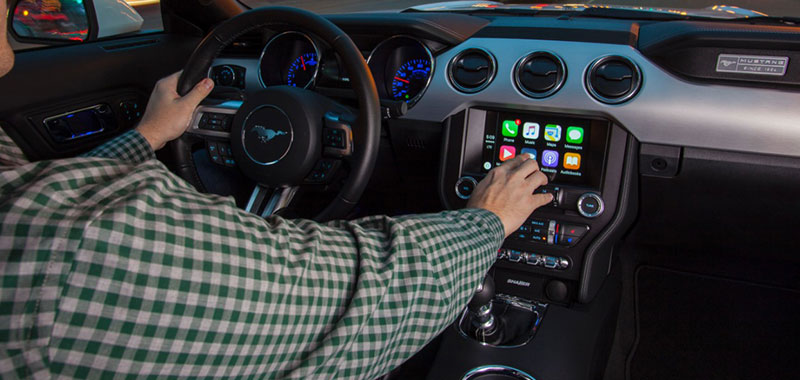 Because both your vehicle and your phone are already setup for Carplay, actually using it in your Ford vehicle is about as simple as you can get. Just plug your iPhone into any USB port in the vehicle with a Lightning connector. There, you've just set up Apple Carplay.
The first time you plug your iPhone in, you'll see a message on your SYNC 3 screen asking if you want to connect. Press continue and agree to the terms and conditions, then you'll see a familiar Apple menu with several road-worthy apps ready to go, including Phone, Messages, Maps, etc. (For a list of all Carplay compatible apps, head over to our updated list Carplay Compatible Apps.)
Actually interacting with Carplay is all about voice control. Instead of looking away from the road to press buttons and find that song you're looking for, just ask Siri to play Party in the USA for you (as you cower in shame at the red light, hoping no one will hear).
Do I Have to Pay Extra for Carplay?
Besides the higher price for the premium trim level, Carplay is absolutely free! There's no monthly fee or additional fees to use it. Just buy the car and enjoy! BMW notoriously charges for Apple Carplay, but most automakers simply include the service as an enticing freebie.
Can I Update MyFord Touch or SYNC to SYNC 3 So I Can Use Carplay?
Not via any official channels. Like we mentioned above, SYNC 3 is a completely different system than MyFord Touch, built on different hardware/software. As such, MyFord Touch vehicles (and 1st gen SYNC vehicles) can't simply update to the new SYNC 3. Unfortunately, you're stuck with what you've got, meaning you're Carplay-less.
That being said, there is an option out there if you're desperate for Apple Carplay. You can simply remove your existing infotainment system and install a Carplay-compatible model. There are online stores offering SYNC 3 upgrades for MyFord Touch using recycled units (infotainment.com for example), but you'll spend a pretty penny on these.
A cheaper option is to purchase an aftermarket headunit that is Carplay compatible. We've reviewed several different options and, while there's not an endless list of options, you're sure to find something that meets your needs. There's basic low-cost units that cost a couple hundred bucks to ultra-premium wireless options (yes, you read that right. A wireless Carplay unit. Ford doesn't even offer wireless Carplay!)
With Ford's SYNC 3 infotainment system, you're getting a great product that's well reviewed and fully supports Apple Carplay. Just be sure you're actually buying a vehicle with SYNC 3!
Do you have any other questions about Ford and Carplay? Ask away in the comments! Looking for more information on Apple Carplay? Head over to our FAQ section!
Photo Credits: Courtesy Ford Media Center
Summary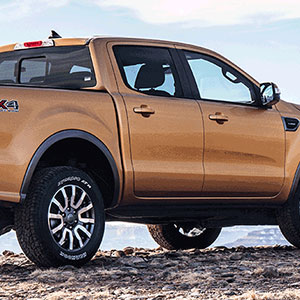 Article Name
What Ford Models Come with Apple Carplay?
Description
Ford offers Carplay across their entire lineup, but not all trim levels actually come with the hardware you need.
Author
Publisher Name
Publisher Logo