Beginning in September 2018, Mazda will offer CarPlay in 2 models – the Mazda6 sedan and CX-9 SUV.
Despite Apple introducing CarPlay way back in 2014 and almost every major manufacturer adopting the technology in all or part of their lineups, Mazda and Toyota have been the hold-outs, refusing to support CarPlay in their vehicles.
Finally though, that's all beginning to change. Toyota has adopted CarPlay for the 2019 Avalon and – thankfully – Mazda is finally offering Carplay in their flagship Mazda6 sedan and CX-9 SUV. However, it's not every trim level and no one's still quite sure exactly what they'll offer in the future.
Mazda Offers Free Carplay Upgrade for 2018 Mazda6
In July 2018, Mazda North America announced that, starting in September 2018, they would offer free upgrades for Carplay (and Android Auto) retroactively for all trim levels of the 2018 Mazda6 except the most basic Sport trim.
Kudos to Mazda for this awesome move, as they're only the 3rd manufacturer to retroactively offer CarPlay in an existing model, following the path set by Ford and Hyundai. With CarPlay, Mazda6 owners will now be able to more safely access Messages, Apple Maps, Music, Podcasts, and a handful of other preapproved Apple and 3rd party apps.
2018 Mazda6 owners with Touring, Grand Touring, Grand Touring Reserve, and Signature trim will simply drop their car off at the Mazda dealer, where they'll install the necessary hardware and software upgrades.
Mazda notes the process should take about two hours, and will also include installation of a more powerful 2.1 amp USB port as well as the latest version of MAZDA CONNECT, Mazda's proprietary infotainment system.
With MAZDA CONNECT, you're able to switch between your phone and the radio intuitively and without distraction says Mazda, which fits pretty well with CarPlay's own goal of safer driving.
The Mazda6 is the first Mazda vehicle in North America to feature Apple Carplay integration. And we can probably assume the 2019 Mazda6 will also feature Apple CarPlay, but until Mazda publishes the stats of the new model we're left to simply assume. However, we're not at a total loss, as Mazda has already announced the 2019 CX-9 will most assuredly feature Carplay right off the lot.
2019 Mazda CX-9 to Feature Apple Carplay
The 2019 Mazda CX-9 is the first Mazda to feature CarPlay off the lot. Available in early September 2018, CarPlay will come standard on Touring trim levels and above (like the Mazda6). This crossover SUV will also feature the MAZDA CONNECT infotainment system and a 7" screen (8" for the Touring model). You can control via the touchscreen or knobs and dials located on the console.
Beyond that, the new CX-9 will feature 17" alloy wheels, LED headlights, Bluetooth, keyless entry, and push-button start.
Like the Mazda6 above (as well as any vehicle with CarPlay), CX-9 drivers will be able to simply plug in their phones with the lightening cord and see a simplified Apple menu on their screen, replete with driving-friendly apps.
How to Use Mazda Apple CarPlay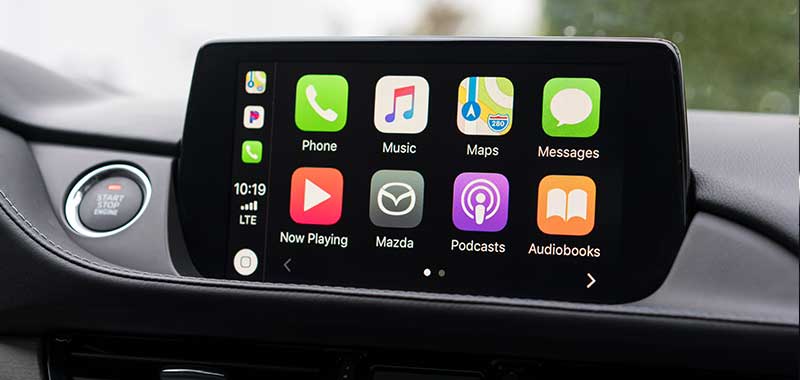 The beauty of Apple CarPlay is in its simplicity. If you already know how to use your iPhone, you already know how to use CarPlay. Simply plug your phone into the included lightening cord and a very familiar Apple menu should pop up on your screen.
From there, you can open and close apps, find directions, send texts, open audiobooks, and anything else you'd need while driving via the touchscreen, knobs and dials, or voice command. That's about it – nice and simple!
Mazda, Apple CarPlay in the Future
Beyond the Mazda6 and CX-9, Mazda has yet to reveal their long-term plans for incorporating Apple CarPlay into their other offerings. Hopefully they'll continue to roll out the technology across the entire lineup as most other major manufacturers have. Chevy, for example, includes CarPlay in well over 20 models, while Honda offers CarPlay in 7 and Hyundai in 11.
Way back at a press conference in early 2018 – before they'd announced the Mazda6 CarPlay retrofit – Mazda gave a very nonspecific announcement that they'd start offering CarPlay for the MAZDA CONNECT system, without mention of any specific models.
As we've seen above, they subsequently began offering Carplay for the 2018 Mazda6, but the manufacturer introduced the MAZDA CONNECT infotainment system back in 2014, so there's a huge backlog of used vehicles that could possibly be eligible for a CarPlay upgrade. Mazda has yet to further comment on this, so we'll just have to wait and see exactly which models they'll offer up for CarPlay.
Mazda has certainly arrived late to the CarPlay party. There's no doubting that. But it's never too late and they've taken some great first steps. Let's hope they continue on this path.
Image Credits: Courtesy Mazda Media Library
Summary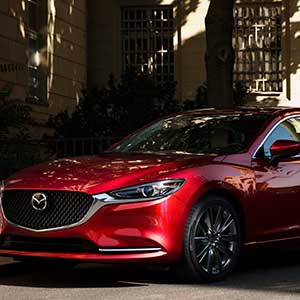 Article Name
Mazda Adding Apple Carplay to Mazda6, CX-9
Description
Mazda is finally offering Carplay in their flagship Mazda6 sedan and CX-9 SUV.
Author
Publisher Name
Publisher Logo