With an increasing demand for a safer convenient driving experience, automakers have come up with integrated infotainment systems. They are designed with a navigation system for a seemingly better orientation enhanced with an optimized map engine that has proved to be unreliable over time. Apple developed an in-car infotainment system labelled CarPlay. Its interface has generic sync capabilities designed to give users in-car access to information stored on the phone when connected to an in-dash system.
CarPlay is famous for its intelligent voice assistant 'Siri', this feature interprets messages if asked to complete tasks like making a call or using a map for navigation. The information is not as accurate as you may expect. The biggest drawback of the feature is it can not be used without an active internet connection. Apple only has the map translation in English, hence your iPhone will not be able to detect voice commands if voiced over different languages. So why pay for an update you do not find useful, manufacturers increase the cost due to technology integration, this is the primary reason why more people have switched back to more relaxed less complex cars with less tech.
Infotainment systems were built to help users enhance safety while on the road including climate control in the vehicle, parking assistance, and a voice-based digital personal assistant designed to perform several actions in your car. There are currently two options in the market; buy an already in-built CarPlay system or a head unit compatible with an apple CarPlay. Very few automakers and technology analysts have embraced the idea of a base model with no infotainment screens but the idea seems to capture technophobes' attention who are looking for a less complex base model.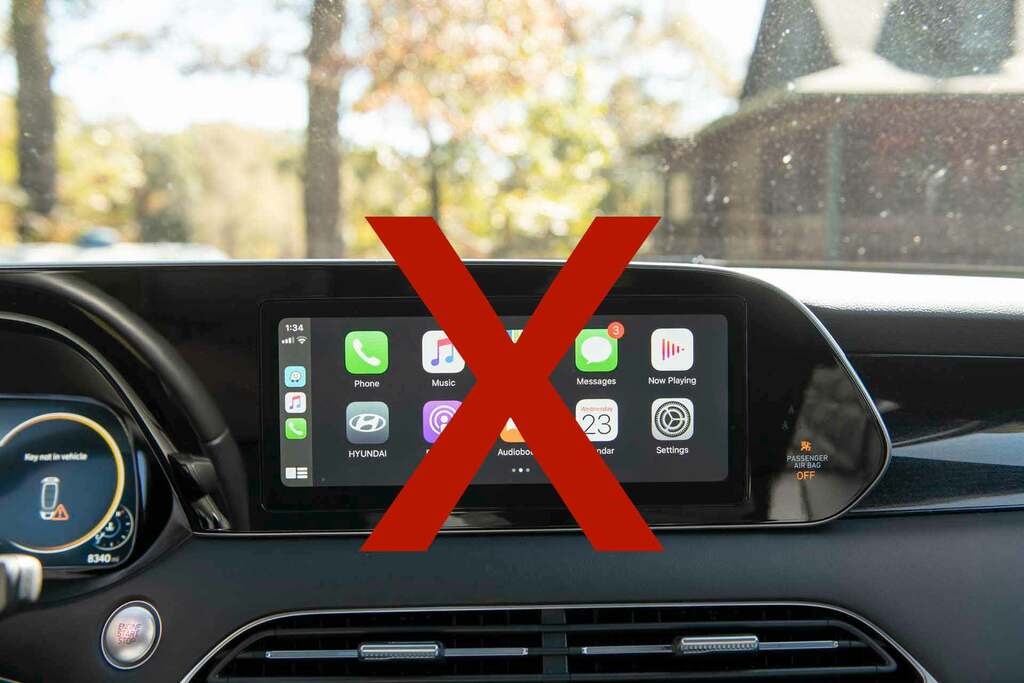 With the evolution of auto technology, it proves almost impossible to get a modern vehicle with minimal technology features as every year cars get redesigned with significant updates. You could spend hours contemplating hundreds of models and yet find very limited classifications for your preference. However, the good news is that there are recent 2021 models yet to be released with less complex tech, redesigned for technology-averse individuals.
1. 2021 Ford Ka+
With the Ford Is+ 2021 you get a standard and simple stereo with a volume knob. All Ford brands have no satellite navigation system. However, lacking the ability to support CarPlay, the car has a phone mount that allows user to mount their phone and use it as a sat-nav.[1]
2. 2021 Fiat 500
The newly installed infotainment system known as UConnect5 that comes with Fiat 500 is much more improved compared to the last version. The new dash design features a large centre display and additional smaller feature of the driver's display. Technical details of an infotainment screen are yet to be released but it is assumed to outline its ancestor's features [2]
3. 2021 Dacia Duster
The new Duster 2021 has undergone structural changes as noted in their latest model. The model is a perfect choice for technology averse individuals. There are striking aerodynamic changes that come with the improved look offering model in different shades. This is the perfect car for technophobes as the dashboard is pre-wired for accessory-fit radio and speaker system, Stop/start system, Speed limiter, and a dusk sensor that does not support CarPlay.[3]
4. 2021 Smart Fortwo
Screen infotainment for this model was not installed however, the car offers a base for a pair of plates where one can install their smartphone. The brand currently offers an Android auto excluding CarPlay[4]
5. 2021 Toyota Land Cruiser
The luxurious SUV is fitted with standard infotainment features with the infotainment system comprising of a 9-inch touch screen with large on-screen buttons for easier climate and audio readjustment. The screen graphics are more outdated as the system does not support CarPlay or android auto, simply a navigation system,14 speakers, and a smartphone charging pad.[5]
Aesthetic changes are minimal as expected with the interior, there's very limited information on the infotainment system but it is more likely to adapt the last version mode that does not support both android auto or CarPlay.[6]
7. 2021 Volkswagen Sharan
This redesigned German MVP model comes with a 6.5-inch touchscreen infotainment system but only offers functions like mirror link, rear-view camera, CarPlay and android auto at extra cost.[7]